IPL Overview
Enjoy silky-smooth skin every day with the IPL Hair Removal System. Gentle and effective even on the most sensitive areas of the body, this light-based system uses IPL technology derived from professional salons to deliver up to 75% hair reduction after only four treatments or two months (when used bi-weekly on lower legs). 

It includes a skin tone sensor as well as five adjustable light energy settings.

Intended for use on light to medium skin tones and on naturally dark blond, brown, and black hair. 

Not require any replacement parts as IPL can use 300,000 which means that device can last for up to 10 years with continuous use.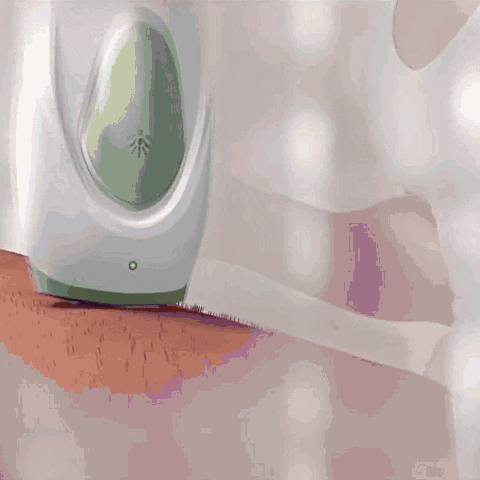 How does it work
IPL exam by Meghan Thiessen Main features and benefits
✓ Fits most areas of the body including underarms, legs, thighs, bikini, face, neck, shoulders and back. ✓ Suitable for both women and men ✓ Uses the latest clinically proven laser technology for safe and effective use by dermatologists. ✓ 100% painless - gentle on the skin Some of our customer results!
 On which parts of my body can I use it?
Usage Instructions
With a cotton swab or dust cloth dipped in medical alcohol, clean out the optical port and glass;

Press the "Power key / gear key" for 1 second to enter the normal working state;

Short press "gear adjustment button" to select the appropriate gear. The blue indicator 1-5 indicates 1-5 gears. 1 file minimum, 5 files the largest

Flash Usage

Press the flash button briefly, the instrument flashes; long press the flash button to enter the auto flash mode (custom mode).

The instrument out of the mouth of the need to fully cover the need to operate the site, the light port contact with the skin, the instrument's red light flashes to flash. If the instrument is working in auto flash mode, the red indicator light flashes when the optical port comes into contact with the skin, and it will flash automatically once

After each flash, the charge status indicator goes out, 1 ~ 3 seconds after the time is full, the red light is bright, into the working state 
Note: the operation, the hair removal parts do not overlap and leakage operation, the entire hair removal area operation is completed again after repeated operation, a total of 2-3 time

After the operation is completed, press the "Power button" for 3 seconds, the instrument shuts down.

with a cotton swab or clean cloth diarrhea medical alcohol, the head of the mouth and the glass stains on the stains clean.
Safety precautions
1. In order to protect the skin, the following people can not use: 
People with skin perception disorders

Allergic dermatitis, eczema and other skin diseases

Light allergy people, cosmetics, clothing, metal and other people susceptible to allergies

Pregnant women, women menstrual period, lactation

Nearly two weeks have sun exposure
2. The following parts can not be used
Tanned skin

Moles and other dark brown or black skin (cf. skin color contrast card)

Hemangioma

Cosmetic plastic parts
Specifications:
Lamp tube: Xenon quart tube

Light source: Intense Pulses Light

Energy Frequency: 1.5-3.9J/cm2

Focus size: 33mm * 10mm

Wavelength: 470nm ~ 1100nm

Lighting life: 150000 times

Lamp: 300000 Times Pulses

Voltage input: AC100-240V 

Voltage output: DC12V 3A

Material: ABS

Plug: US

Use: Face,Bikini,Underarm,Body

Gender: Female

Item Type: Epilator

Use: Body

Gender: Female

Color: White, Rose golden

Size: 134.2 x 83.1 x 47.6mm 

Operating temperature range: 5 ° ~ 30 °

Working humidity range: Relative Humidity 30% to 60%
Products included: 
1 x IPL Pulsed Total Body Bikini Leg Laser Hair Removal 

1 x Power Adapter 

1 x Warranty Card

1 x English Manual
Packaging details:

Unit Type:

 

piece


Package Weight:

 

0.68kg (1.50lb.)


Package Size:

 

23cm x 14cm x 9cm (9.06in x 5.51in x 3.54in)
People who bought this product, also bought